Skin Essence a Day Spa Proudly Serves Raleigh, Durham, Chapel Hill, Cary, Wake Forest, Garner, Morrisville, Fayetteville, NC and Surrounding Areas.
Skin Growth Treatment
Introducing the Skin Classic Treatment of Skin Growths.
NOW, A SAFE, NON-INVASIVE TREATMENT THAT TARGETS UNSIGHTLY SKIN GROWTHS FROM YOUR FACE AND BODY IN JUST ONE SESSION.
Treatment of Skin Growths is now Fast, Easy and Affordable.
Age Spots
Sun Spots Treatment
Skin Tags Treatment
Cherry Angiomas
Fibromas
Keratosis
Cholesterol Deposits
Calcium Bumps
WHAT ARE SKIN GROWTHS?
Skin growths are accumulations of various types of cells that look different from the normal surrounding skin. They may be raised or flat and range in color from dark brown or black to flesh-colored or red. They may be present at birth or develop later as we age.
ARE THEY SAFE TO TREAT?
In most cases, skin growths are non-cancerous and can be safely treated. The treatment is performed by a professional, certified technician who has been trained to identify the different types of skin growths appropriate for treatment. All treatments are performed using the strictest sanitary procedures.
IS THE TREATMENT PERMANENT?
Yes, once a skin growth has been treated, it does not return. However, if your skin is prone to these types of growths, new ones may appear elsewhere on your face and body.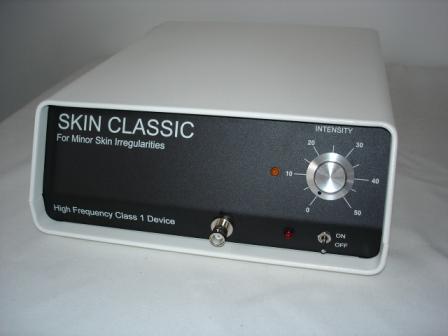 SKIN CLASSIC FOR MINOR SKIN IRRIGULARITIES
The Skin Classic High frequency technology for the rapid treatment of minor skin irregularities such as telangiectasis, spider naevi, cherry angiomas, fibromas, skin tags, hyperpigmentation, milia, cholesterol deposits and acne pimples. The Skin Classic treatments are quick, and may not even touch the surface. Small skin tags or blood spots disappear immediately and hyper pigmented areas such as liver or "age spots take only a few seconds. There is minimal discomfort for the client and healing time is short, from a day or two and skin tags to a few weeks for larger skin abnormalities such as fibromas.
For Cherry Angiomas, Sun Spots, Fibromas:
$90 for up to 3 spots, then starting at $25 for each additional spot.
For Skin Tags:
Small one – $35; Medium one -$50; Large on – $75
Price is based on consultation. Consultations are free.
For an appointment, contact us at 919-848-0199
Anti-Aging Sun Spot Treatment Before and After
Click Pictures to Enlarge! 

FIBROMAS TREATMENT
---
[ebs_seo_cp_contact_only]