Skin Essence a Day Spa Proudly Serves Raleigh, Durham, Chapel Hill, Cary, Wake Forest, Garner, Morrisville, Fayetteville, NC and Surrounding Areas.
Revitalight

The Revitalight Skincare System is a safe, but effective use of advanced light technology designed to help diminish the visible appearance of fine lines, wrinkles, and age spots on the face, neck and hands by promoting collagen firmness.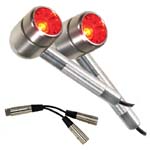 Extensive research involving safe light sources and wavelengths has enabled the Revitalight Team to create applications that allow light emitting diodes, LEDs, to help alleviate signs of aging. The key to Revitalight™ photopulsation technology is the scientific concept that skin cells can be photoreceptive. The LED wavelengths which are used in the Revitalight Skincare System are less than half the strength of lasers used at their lowest levels by dermatologists, and therefore are completely harmless, yet effective.
Developed by electronic engineers working in conjunction with dermatologists, the Revitalight Skincare System uses photopulsation technology allowing people to have an effective and safe, non-invasive cosmetic skin care application in the comfort and convenience of a salon or spa.
The LED succeeds by passing its light through the skin in order to help promote collagen firmness. The skin naturally appears smoother, tighter, and more radiant as the collagen becomes more firm. The Revitalight Systems™ cool temperatures cannot harm the skin in any way, and the disposable pulsator covers, made of FDA-approved plastic, assure that only a sanitized device touches the client™ skin.
Revitalight Details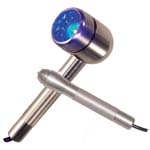 Skin care has an even brighter future thanks to the newest use of light-emitting diode (LED) technology that does everything from energize skin cells to stop the P. acnes bacteria dead in its tracks. LED is the basis for photomodulation, a scientific process that sends calibrated packets of light into the dermal layer, setting off a frenzy of cellular activity to produce softer, more youthful-looking skin. LED photomodulation, unlike past lasers and intense pulsed light systems, does not injure the skin to prompt an increase in collagen production.Specifically modulated red and near-infrared LEDs are most commonly used for treating aging, photo-damaged or blotchy skin. Modulated blue or blue-violet LEDs are used to treat acne, handily controlling breakouts by setting off a cascade of cellular activity that creates a deadly environment for the P. acnes bacteria.
Anti-aging Skin Rejuvenating
Revitalight Full face: $125.
Revitalight Neck:$50. add to your face only $35.
Revitalight Eye area, anti-aging/anti-wrinkles: $50.
Revitalight Cheeks: $30.
Revitalight Upper and lower lips: $30
**Clients who add Revitalight and Microdermabrasion to an Organic Peel will receive $45 off regular price $95 for the peel.
Clients recommended to do follow up treatments within 10 to 15 days. For the best lasting results, six treatments recommended. Buy Six Get One FREE!
Blue light Acne Treatment
Acne Blue Light Therapy Full Face:$60
Acne Blue Light Therapy Full Face, with chemical peel (Acne Clearing Booster): $85
Acne Blue Light Therapy Cheeks: $25
Acne Blue Light Therapy Chin area: $25
Acne Blue Light Therapy Forehead: $25
Clients recommended to do follow up treatments twice a week for the first two weeks. For the best lasting results, six treatments recommended. Buy Six Get One FREE!