Skin Essence a Day Spa Proudly Serves Raleigh, Durham, Chapel Hill, Cary, Wake Forest, Garner, Morrisville, Fayetteville, NC and Surrounding Areas.
Body Treatment
Our therapeutic body treatments are relaxing for both men and women and a great way to achieve your Lifestyle in Balance. All of the body treatments will be enhanced with a Vichy shower, an eight-jet hydrotherapy massage, at Skin Essence Day Spa.
***For safety reasons, please note that our body treatment bed can only hold up to 250 pounds.***
Benefits of body treatment
Through consistent treatment with professional products, our signature purifying, exfoliating and detoxifying treatments are some of the most effective ways to cleanse, balance, and moisturize the skin while addressing imbalances such as sluggish metabolism, dull skin, digestive issues, lack of energy from high stress, and accumulated toxins in the body and lymphatic (filtering) systems.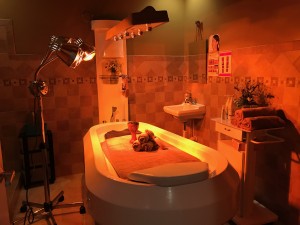 Sea salt, algae, minerals, etc. – play a leading role in human health. Seaweed contains high concentrations of magnesium, calcium, iodine and other vital elements. Administered internally and externally, sea-water products have a noticeable positive effect on the health and well being of the user.
Hydrating Tropical Sugar Body Scrub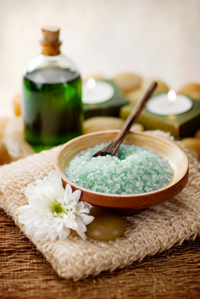 Our delicious Tropical Sugar Body Scrub treatment includes the dry body brushing which gently exfoliates dry skin from head to toe, leaving it refreshed and revitalized.  Infused with fresh sugar cane crystals containing naturally occurring alpha hydroxy acids, this body treatment polishes away dead skin cells as a finale, followed by a full-body application of Dermalogica hydrating body lotion will leave the skin exotically scented. Recommend for before body massage.
40 minutes – $80
Mineral Sea Salt Scrub
Our Dead Sea Salt Scrub is a treatment includes the dry body brushing which gently exfoliates dry skin from head to toe, leaving it refreshed.  The revitalizing and energizing scrub will exfoliate and soften your whole body. Mineral-rich salt from the Dead Sea with not only nourish and promote healing on the skin but reduce rough, dry skin, uncovering a baby soft texture unlike you've ever felt. A gentle mixture of mineral salt and essential oils are massaged into the body, exfoliating and invigorating the skin, followed by Dermalogica Hydrating body lotion. This treatment is highly recommended before putting on that skin-baring dress or before self tanning at home. Recommend for before body massage.
40 minutes – $80
Enzymatic Sea Mud Mask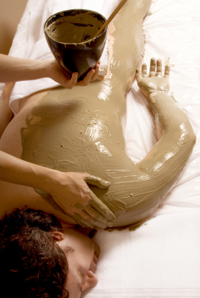 Detoxify, exfoliate and nourish your body with a purifying seaweed and mineral mud poultice. Dry brush through whole body, then an infrared light will heat up the body mask, which is infused with aromatic botanical extracts and fruit enzymes.  Includes scalp massage.  This treatment leaves the skin smooth and supple.  Customized with detoxifying algae and aromatherapy oils.
60 minutes – $125
Seaweed Body Wrap and Scalp Massage
This amazing and relaxing treatment rejuvenates every cell in your mind and body. The service includes dry body brushing, detoxifying seaweed applied to your entire body which eliminates water retention, including your face;  The rich deep sea seaweed remineralizes your body cell's.  The infrared lamp keeps you warm while increasing your body's circulation. Wrapped in a warm blanket, deep relaxation and nutrients in algae help circulation, replace minerals and detoxify the body, helping to jump-start your metabolism and is ideal for cellulite or weight-loss programs. While wrapped in a layer of detoxifying algae and firming seaweed, you will be pampered with a soothing scalp massage. As a finale, a full-body application of hydrating lotion will leave your skin toned and vibrant.
Option 1: 60 minutes – $150 (seaweed body wrap with organic lavender oil scalp massage)
Option 2: 60 minutes – $175 (seaweed body wrap with organic lavender oil scalp massage and refreshing facial)
Option 3: Couples Seaweed Body Wrap 60 minutes – $300
**ADD Papaya Enzyme mask to face for softer and glowing skin for an additional $50 (regular price $75). 
SEAWEED BODY WRAP BENEFITS
Provides relief from:
Stress, tension, sleep disturbances, nervousness and exhaustion
Muscle tension
Arthritic pain and circulatory disturbances and irritations of the skin
Supports:
Weight reduction programs
Purification of the organic system
Wellness – an important basis for emotional equilibrium
*Series may be solely used by the purchaser. Series is not transferable for any other service or cash value. 
Hand and Foot De-stress Massage
A luxurious treatment for the most exposed and overworked parts of your body. Feel refreshed as your extremities are exfoliated with a lavender scrub, and then relax as silky smooth moisturizing cream is massaged into your hands and feet.
60 minutes – $75
Ultimate De-Stress Aromatherapy
Reduce stress and muscle tension with a combination of back, shoulder, neck and scalp Aromatherapy stress treatment. The ultimate remedy to everyday stress.
60 minutes – $75
---
[ebs_seo_cp_contact_only]