Skin Essence a Day Spa Proudly Serves Raleigh, Durham, Chapel Hill, Cary, Wake Forest, Garner, Morrisville, Fayetteville, NC and Surrounding Areas.
Full Body Massage
Aromatherapy Massage
We'll use pure, organic oils preferred by you, our customer, combined with any style of massage you prefer.
Add $15 to any of the massages below.
Swedish Massage
Swedish Massage is a very relaxing and therapeutic style of bodywork. It combines oils or lotion with an array of strokes such as rolling, kneading, and percussion to help the body improve its circulation. The benefits of this type of bodywork are wide-ranging and include relief from aches and pains, decreased stress levels in the body, enhanced mental clarity, improved appearance, and greater flexibility.
30 Minutes Massage – $60
60 Minutes Massage – $85
75 Minutes Massage – $100
90 Minutes Massage – $125
Deep Tissue Massage
Deep Tissue Massage is a form of bodywork that aims to relieve tension in the deeper layers of tissue in the body. Chronic patterns of tension in the body are released through slow strokes and firm pressure on contracted areas. The therapist will address specific areas of concern and tailor the massage to your needs. Keep in mind that plenty of water should be ingested to aid with the flushing and removal of toxins that will have been released from the deep tissue during the session. Open communication during the session is crucial to make sure you don't get uncomfortable.
30 Minutes Massage – $60
60 Minutes Massage – $85
75 Minutes Massage – $100
90 Minutes Massage – $125
Hot Stone Massage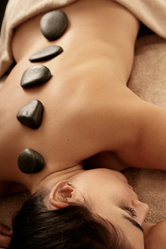 Smooth, hot, oiled basalt stones and cool marble stones are combined
with massage to relieve stiffness and soreness. The heat and energy
from the stones allow the therapist to work deeper on muscles for a
truly relaxing experience.
60 Minutes -$110
75 Minutes – $135
90 Minutes -$160
Reflexology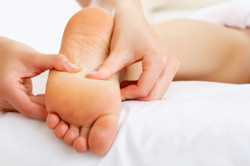 An ancient Chinese technique that uses pressure-point massage on the hands and feet to restore the flow of energy throughout the body. By using pressure points the therapist can assist in the elimination of toxins, relax the entire body, and stimulate the healthy functioning of internal organs.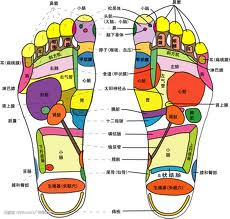 Reflexology treatments have been found to be highly effective for conditions such as allergies, headaches, and depression.
45 Minutes – $65
60 Minutes – $80
Hand and Foot Relaxation Therapy
A luxurious treatment for the most exposed and overworked parts of your
body. Feel refreshed as your extremities are massage with coconut oil and then relax as silky smooth moisturizing cream is massaged into your hands and feet.
45 Minutes – $65
Benefits of Massage Therapy
Why is massage therapy so important on a regular basis? Massage has direct benefits for the body and mind. Massage helps to increase metabolism, helps speed healing, relaxes and refreshes the muscles, and improves blood circulation and the detoxifying functions of the body's lymphatic (filtering) system. It also relieves fatigue, reduces tension and anxiety, calms the nervous system, and promotes relaxation, renewed energy, and a sense of well-being.
All of us suffer from some kind of physical or mental stress, whether it's from work, family, relationships, aging, pregnancy, or athletics. Therapeutic massage has been used for centuries as a natural method to treat aches and pains while bringing relief from tension and fatigue and validating self-worth through touch and compassion. Although massage is not a cure-all, incorporating massage into daily life is a safe, beneficial health and restorative aid for everyone, from infants to the elderly.
Choose your favorite essential oil add to any massage for only $10
---
[ebs_seo_cp_contact_only]