Skin Essence a Day Spa Proudly Serves Raleigh, Durham, Chapel Hill, Cary, Wake Forest, Garner, Morrisville, Fayetteville, NC and Surrounding Areas.
Eye Lash Lift
Lash Lift!
Would you like beautiful curly lashes that look full and luxurious for weeks?  Get a Lash Lift!  It is a safe, new innovative way to perm the natural eyelashes and keep them looking curly and fantastic for 6-8 weeks!  Our professional skincare specialist who performs this service has over 19 years of experience, with extremely gentle and precise hands. 
NOW WITH KERATIN!  Lash Lift perms, neutralized, and conditions the natural eyelashes with our top of the line conditioner that contains keratin.  The eyelash lift is easy and produces stunning results.  Imagine never needing to curl your natural eyelashes again! 
This new innovative eyelash lift is a great option for people that can not have eyelash extensions due to sensitivities or any other reason. It is perfect for people who want to take a break from eyelash extensions. 
The Lash Lift is designed to be more gentle on your eyes so that there is no stinging or irritation.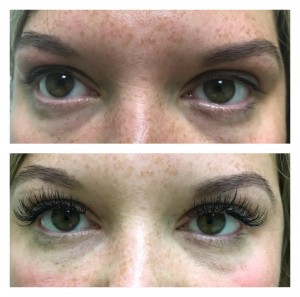 ———————————————————————————–
Q & A
What is Lash Lift? 
A lash lift is like a perm for your lashes. It curls your lashes, making them appear fuller and makes your eyes appear brighter and more energized.
Is Lash Lift safe? 
Yes, absolutely!  We use top of the line products.
Do lash lifts ruin your eyelashes?
Nope!  It is a gentle and easy procedure that adds volume to your lashes as well as height and curl of your lashes.
How long does the lash lift last? 
About 6-8 weeks.
Does lash lift procedure hurt?
Nope, it is a gentle, safe and noninvasive procedure.
How much does lash lift cost? 
$150
Can I wear eye makeup after lash lift? 
Yes, it is advised that you wait 24 hours.